HOME
DETAIL
SCHEDULE
LODGING
DIRECTIONS
FAQ
VOLUNTEER
COMMITTEE
RIDES

H-D Dealer L ocator
H-D Ride Planner
Pocono Mountain Harley-
Davidson
Valley Forge Harley-Davidson
Schaeffers Harley-Davidson
Classic Harley-Davidson
Electric City Harley-Davidson
Keystone Harley-Davidson
Baer Harley-Davidson
Tramontin Harley-Davidson
Pre-registration is now closed! Please see the schedule page for on-site registration times!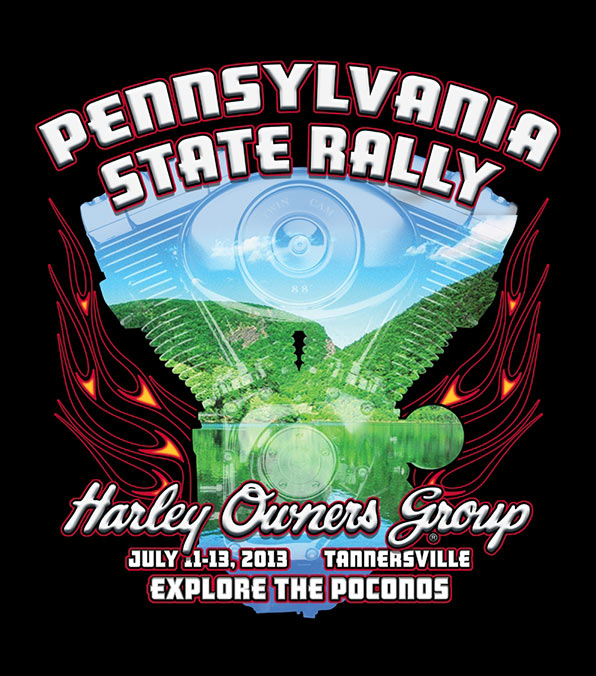 Home is where the heart is and the heart of Pennsylvania is in the Pocono Mountains! This is one rally you won't want to miss! There is definitely more to explore in the Pocono Mountains!
We are planning some great rides throughout this breathtaking region. A guided ride to the Martin Guitar Factory with a private tour and The Birch Beer & Buttermilk ride are just two of many great rides you'll enjoy.
You will also get the opportunity to see Circus Una perform with their motorcycle on a highwire! This is an act you won't want to miss! And when you're just hanging out at the hotel, you'll want to be sure to sit down with 1 Reaction Racing and try your luck with dragbike racing just like at the dragstrip! Race against your family and friends, young and old alike will have a ball!
And after your day of adventure, we will have evening get-togethers every night with music and dancing. There will also be a lighted bike show so get those boogies lights you always wanted to get, polish up that chrome and make 'er shine! There will be lots of surprises and prizes over the 3-day event.
Some things of interest in the area are Camelbeach/Camelback with their waterpark and challenging zipline, Pocono Raceway, two casinos, Martin Guitar Factory, factory outlet stores, and numerous restaurants & shops with something for everyone!
So if you want to be guaranteed all this fun, you should pre-register as well as book your room at The Chateau Resort & Conference Center so you don't miss out!
We're looking forward to seeing you then!